352Creates enjoyed an e-interview with Heather Halak, the current owner of Third House Books in downtown Gainesville.
Often referred to simply as Third House, the bookstore was established in 2016 and primarily specializes "in titles from small independent presses, smaller imprints of the larger houses, and marginalized voices."
We believe that reading expands the mind to creative thinking and is a practice that centers us to the current moment, much like the act of dancing or painting. It is to many a crucial part of maintaining their own wellness. We asked Heather about her experience with the benefits of reading on her well being, her creative response to the pandemic as a small business owner, and more.
352Creates: What are some positives and benefits about reading that can contribute to our general well being and health?
Heather: Reading means setting aside intentional time for you. We're constantly being inundated with information and productivity is overemphasized in our culture; I think taking a deliberate break from the rest of the world is important. Literature is slow medicine for the heart and mind. When it comes to our physical health, we're learning how phones and blue light before bed disrupts our ability to sleep calmly, but books (unless it's hard to put down!) are a great alternative for a winding down routine. Audiobooks are a great soundtrack for exercising. There's lots of options for including reading in your life.
352Creates: What are some the challenges of owning and operating an independent bookstore in the digital age?
Heather: Amazon, and the way it has spoiled people into expecting cheaper prices (that come at huge costs — Bezos doesn't pay taxes and also, there are the poor working conditions) and in a two day shipping period. This isn't feasible for small businesses who are… small. We're limited in what we can do in terms of manpower, and money, but Amazon can't offer your favorite author coming to town or a community space.
352Creates: What are your top 3 favorite books?
Heather: This is always a hard question! I love Mary Shelley's Frankenstein, Maggie Nelson's Bluets, and anything by Elena Ferrante.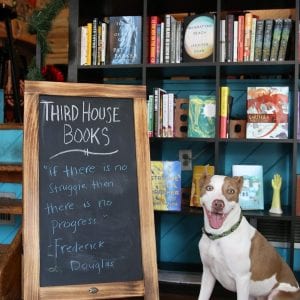 352Creates: In what ways has the pandemic affected your business?
Heather: Literally every way. I'm immunocompromised and made the tough decision to close the storefront temporarily in March of 2020. I didn't know that temporarily would mean a year and a half. I still won't be reopening fully, but am considering reopening for browsing appointments only late this summer because I've had the chance to be vaccinated. It was disappointing to see people choose to not understand, or ask to be the exception and if they could come in for a quick peek. The pandemic has obviously had a huge effect on my mental health as well, especially as a one person show, trying to run a business; I heard once that it's been exhausting this year because we're constantly expecting conflict for setting a boundary whether it's wearing a mask, skipping a family gathering that feels unsafe, or closing your business temporarily — and that's exactly it. I've had to be creative and figure out converting the operation to fully virtual, which is ten times more work for less in return, but I've also been able to reach customers from further than Gainesville. It's been exhausting but I've found a lot of support.
352Creates: Has any particular book been a transformative experience in your life?
Heather: Paolo Coelho's The Alchemist has been a book I've turned to when I'm at a crossroads and it changed my worldview when I first read it in high school. In this pandemic, I've had to remind myself of this book frequently. There's a line in the book about how if you want something, the universe conspires to make it happen for you. In this past year, it's felt like the universe has conspired to do the opposite, and I know hope is smart. I'm actively trying to combat the cynicism and pessimism from the past year.
While Third House is currently closed due to the pandemic, you can support this local bookstore by shopping online at www.thirdhousebooks.com
Follow Third House Books on social media:
Instagram: @thirdhousebooks
Facebook: www.facebook.com/thirdhousebooks