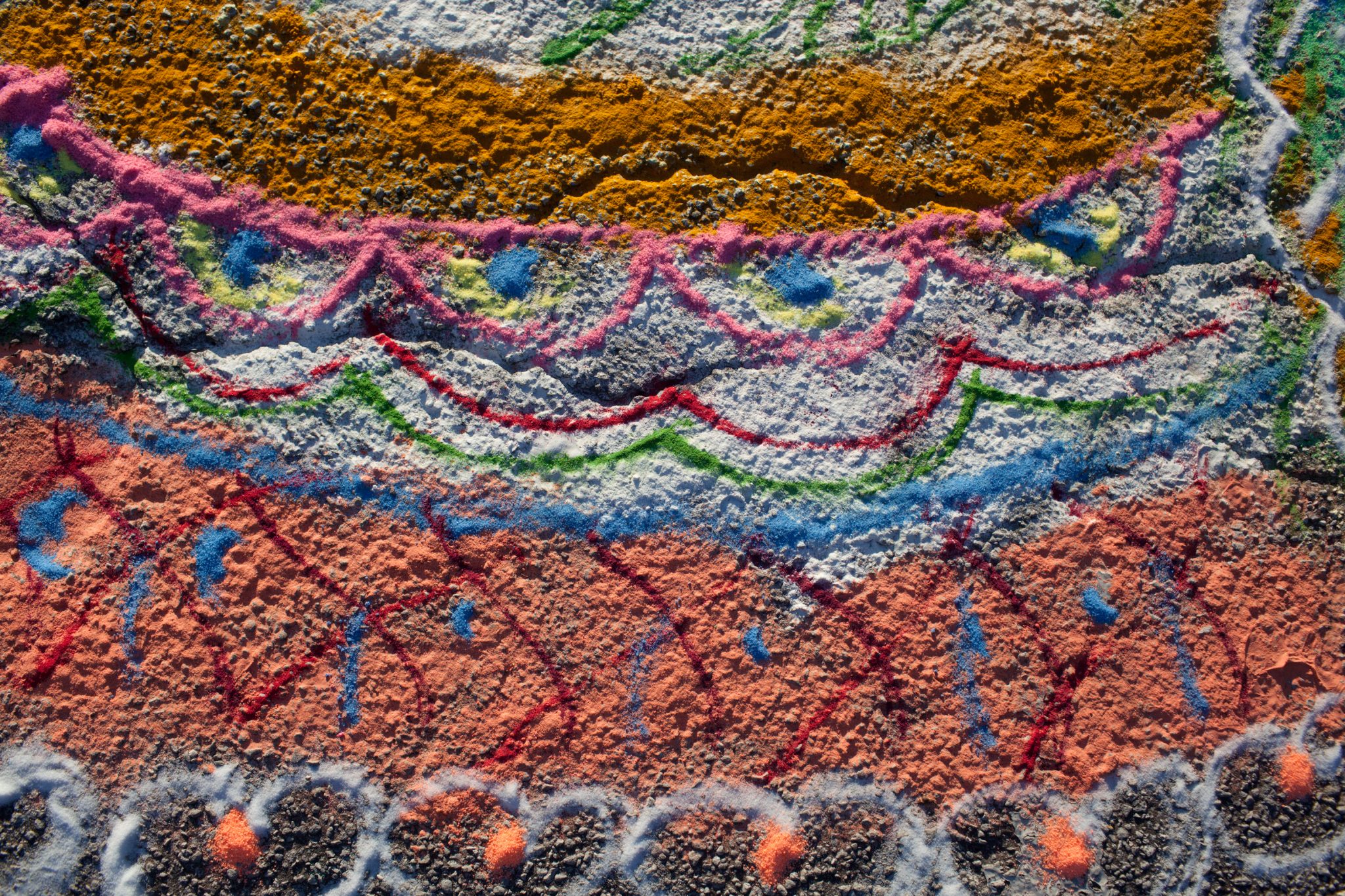 A version of this story was originally published on the UF Health Bridge by Isaac Heller on May 10, 2018. 
UF Health Shands Arts in Medicine (AIM), along with 352Creates, celebrated National Nurses Week, May 6-12, by encouraging staff to engage in art making. This year's theme — Nurses: Inspire, Innovate, Influence — focuses on how nurses impact the people around them, and the team is hoping to inspire staff to get creative.
On Friday, May 11, from 9 a.m. – 1 p.m., AIM artist in residence Anupama (Anu) Priyardarshini created a mandala using Rangoli art, a type of Indian folk art that uses different colored sand and spices for a unique visual effect. And crafted the mandala in the Garden of Hope for all to see.
"We have offered activities to nurses in the past, and we want to do something fun that will allow them to relax and enjoy the art being created," said Lauren Arce, M.S.N., R.N., O.C.N., AHN-BC, AIM nurse coordinator.
Nurses and guests in the UF Health Shands Cancer Hospital and the UF Health Heart & Vascular and Neuromedicine Hospitals could peer out the window to watch the mandala being built.
"We also know that nurses are very busy and may have trouble getting off of their unit to visit offsite events," Lauren said. "The idea of this is for the artwork to be highly visible from the units that are on the second floors and higher. Nurses will only have to walk over to the window to view it."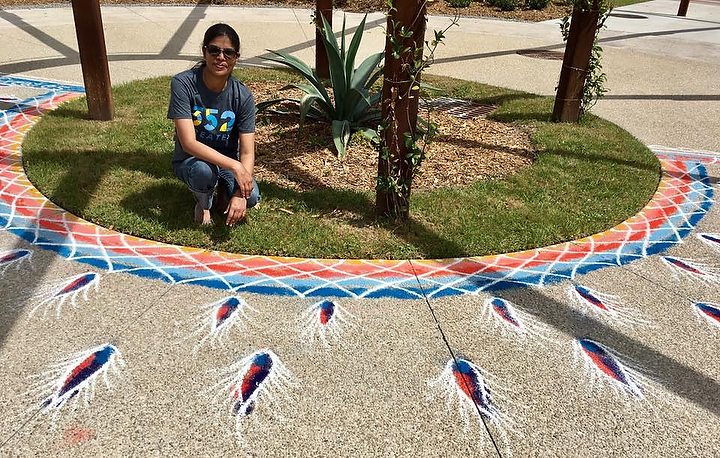 The artwork also acted as part of 352Creates "Create in Place" day, which is held on the second Friday of each month. The day is designed to engage people in art.
"We encourage participatory and creative activities," said Charlotte Kesl, 352Creates coordinator. "This is a way to connect with the public though creativity and encourage wellness. We hope to get people to smile and take a moment to enjoy the art."
No one wants nurses, other staff, and visitors to participate more than Anu, who has been practicing different types of Indian folk art since she was a child. Rangoli, however, is her favorite. Anu is especially happy to be celebrating Nurses Week but loves to influence everyone with her art.
"Anyone who is interested in my art and would like to participate can help me," Anu said. "I will have materials for them and can draw something for them to fill in."
Each month, we'll be sharing a story from Empathy Corner, an internal publication of UF Health.