352Creates 2017
Depot Park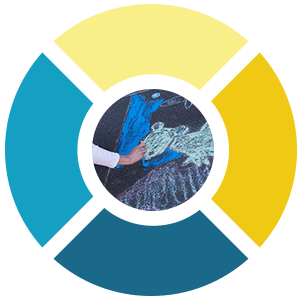 Get Hipp on the Street!
The Hippodrome Theatre firmly believes that there is an actor in all of us! March 25th is your chance to come perform with members of the Hippodrome Theatre's Teen Ensemble and Hipp Company member Matt Lindsay in scenes conceptualized and written by the Hippodrome Teen Ensemble. Each scene will be allotted 7 minutes for rehearsal and then filmed and uploaded to the HIPP's and 352Creates Instagram. Actors in the scene that gets the most "likes" will win tickets to the Hipp's production of Hamlet.
American Medical Student Association (AMSA)
Painting with nature 
Gainesville Fine Arts Association (GFAA) & Artwalk Gainesville 
Community Collage
Anyone can join in to make a giant collage. Materials will be supplied (glue, magazines, newspapers, posters and event mislay trinkets to attached). Participants are encouraged to "just show up" or they may choose to bring their own items to add to the collage.
Unpredictable & unreserved, competitive & collaborative, Tone Def is a coed a cappella group at the University of Florida. They won first place at the University of Florida's Hispanic Heritage Month Talent Show in 2016 and compete every year in the ICCA competition.
Tone Def will use their daringly creative repertoire to perform a 30-minute set at Depot Park! Pop up performance will happen from 10:30 am – 11 am.
Inisheer Irish Dancers 
Performance and participatory dance
presents an Artist Speakers Series 
Located in Box Car in the Depot Building, speakers will present from 10 am – 2 pm
The Gainesville English Country Dancers
Dancing which began in the 16th century is alive in Gainesville today.  Come out to see a Demo and join in.  Yes, you CAN dance!  We promise–it will be easy and fun.
Anupama Priyadarshini
Rangoli Art
Revolt
Test drive an electric bike, created right here in Gainesville, Fla!
Culinary arts
Join in making a colossal sized salad! All ingredients will be prepped before arriving to the park. The community will help assemble it! Once the project is complete all participants will have the option of eating the piece.

Glassblowing
with Jonathan Bensenhaver
ChayaVeda Integrative Ayurvedic Healing Arts
Ayurveda's Color Pallet of Spices To Create Recipes For Your Ayurvedic Type and Food As Medicine 
Learn about Ayurvedic nutrition and digestion and create a recipe for your Ayurvedic Type, with Chaya~Sharon Heller, Ayurvedic Practitioner and UF Health Integrative Medicine Wellness Educator. Worksheet, dosha Questionnaire and food chart will be provided.
Embody Your True Vital Self – Illustrate Your Barriers and Path to Living Authentically
Come learn about bioenergetic body-mind practices, skills training, and analytic psychotherapy. Tune in to yourself and capture in images the expression of your authentic self and what barriers keep you from living that self in an embodied and vital way. For those who are interested, we can also explore these illustrations/experiences through bodily movement.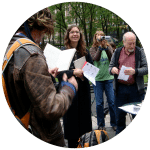 Poet's Circle 
literary arts with Susan Fairforest 
Sharing poetry & collaborate poetry.
Sweet water Organic Coffee
Thanks to Sweetwater for the 2 pounds of coffee donated for our volunteers!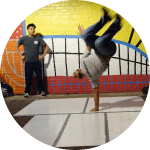 UF Hip Hop Collective
Allied Capoeira League of Gainesville 
Participate in a Brazilian dance-fight called Maculele (traditionally performed in pairs with sticks beaten together)! For 352Creates, the sticks will be recycled water bottles. Water bottles will be provided to decorate with paint, colored tape, etc. Once decorated, the re-purposed water bottle stick will be used in the dance.
Face Painting
with Tavaris Randall
Imagination Station 
presented by UF's Art Education program 
Activities will include funky paper hats, recycled materials collagraph printing and tempera painting
Terrarium Building Workshop
with Stella Hartman
Let's get growing! Create a terrarium or small succulent garden to bring into your home. Think of it as community gardening but on a micro level. Our mission is to provide a fun experience that will familiarize the community on how to nurture plant life and make it a part of their day today. Necessary materials will be provided but are limited on a first come first serve basis.
Potential storytellers will be randomly assigned a story theme and asked to share a story on that theme!
Drawing activity 
with Christopher Brown
AnARTists Community Group believes art is for everyone! In our event, we present 3 different options for creative expression. 1) Peace Flags: Decorating small fabric flags to express a peaceful intention either for oneself or our community – or both! 2) Weaving using colorful yarns, and 3) A collaborative mandala, or circular artform, constructed entirely of natural materials. We look forward to seeing you!
Chalking & Bubbles
with Milagros Ruiz-Taylor
"Before I Die" wall
"Before I Die" is a global participatory public art project. It invites people to stop a minute to write a message on a chalk wall and it results in reflections on life, death and personal aspirations. Photos capture the messages before they are erased and the mobile exhibit is moved to a new location.
Make-your-own Hula Hoop 
with Jordan Smith 
Join in a fun, creative, and healthy craft of making your own hula hoop! Tubing and tapes provided.
Innovation Academy (IA Serve)
Create an art piece and inspire our next community service project at the IA Serve booth during 352Creates. We will have supplies for participants to use. All creativity and talent levels welcome! Bring any art supplies to donate to Lake Forest Elementary School so students can have the same opportunity to reach their creative potential!
A contemplative practice for artists and non- artists that typically takes place away from home. Journey Daybook alums will be on hand to demonstrate their individual work as they make pages using pen and ink, watercolor, and collage. You will see completed journey daybooks, the supplies that are used, and photos of Journey Daybook Introductory Retreats and Adventures.
Yoga on the hill at Depot Park!
Join Shane McNut at 10am and Kate Keskinen at 11am for Pop Up Yoga Classes on the grass at Depot. Bring your mat!
Caricatures
with Jay Jordan Uy
Get a caricature or learn how to draw a simple cartoon!
Interested in hosting an event at Depot Park?
Take a look at the
starter kit

!