Surprise your friend, partner, or neighbor with a sweet, homemade Valentine's Day gift this year. Gifts don't have to cost a lot of money to be meaningful. Most of the time, they are even better when they are made from the heart. Here are three DIY gifts that you can easily make and give.
DIY "Stained Glass" vase or votive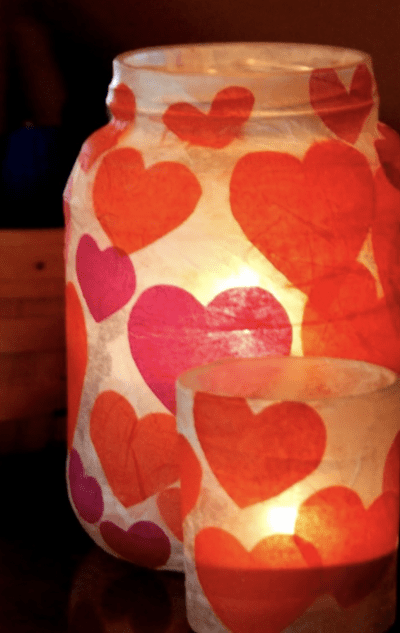 We always seem to have glass jars and leftover holiday tissue paper laying around. This craft is a perfect project for putting those to use!
For this project you will need:
Mason Jars or a vase
Mod Podge
Paintbrush
Tissue paper
Scissors
Candles or flowers
Once you have gathered the tissue paper, you can cut shapes out of them or tear it for more of an organic flow. Then you will paint a thin amount of mod podge onto the glass and stick the paper on it. Keep repeating these steps and overlap the paper if you'd like until the vase or jar is covered. Finish it off by painting another layer of mod podge over the entire jar. Allow the jars to fully dry or let them sit overnight. Now all you need to do is put a candle inside or pretty flowers and give them as a gift.
2. Homemade Valentine's Day Treats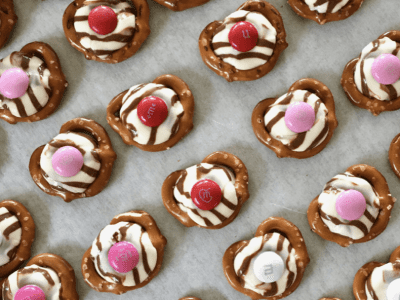 These yummy bite-size treats are fun to make, give and eat!
For this project you will need:
1 bag of Hershey's Hugs
1 bag of Valentine's Day M&M's
1 bag of mini twists pretzels
First, you will preheat the oven to 225° F and line a baking sheet with parchment paper. Arrange pretzel twists on the baking sheet and then place a Hershey's hug on each pretzel. Put the pan in the oven for 6-6 1/2 minutes. Remove from oven and push an M& M on each point of the hugs. Allow to cool for the chocolate to harden back up. Eat some as you package them up in little baggies and gift them. 🙂
3. Homemade Valentine's Day Card
Show someone you care with a heartfelt, homemade card.
For this project you will need:
Different color construction, cardstock, or crafting paper.
Scissors
Ribbon
Markers
Glue
This craft will take you back to your youth and is fun to make with little ones. The options for a homemade card are endless and each one is personalized.
Start with an 8.5 x 11 piece of paper and fold in half (hamburger style). Choose some colored paper you'd like for hearts. Fold the paper in half. Draw half a heart using the crease as the center of the heart. Cut along your line, open up the paper, and look at your beautiful heart. Repeat with different colors and sizes.
Once you have all the hearts you'd like, draw some delicate designs or even glue rhinestones on them. Start gluing them down on your folded 8.5 x 11 paper, in a layered bouquet pattern. Then draw stems for your heart bouquet. Tie a piece of ribbon and glue it in the middle of your steams. Now all you need to do is write a sweet message for someone you care about inside.
We hope some of these craft ideas have sparked your imagination to get creative this Valentine's Day.