By Uma Raja
When the stress of school wears me down, there's nothing like reconnecting with nature to make me remember how peaceful life can be. The local hiking trails of Gainesville contain blossoming flowers, chirping birds, and warm sunshine that make all your troubles melt away. These beginner-friendly trails can be completed in under an hour, and you won't regret exploring the incredible beauty that Gainesville has to offer.
Bolen Bluff Trail: An Enchanted Forest
Bolen Bluff Trail is a hidden gem nestled amongst the buzz of US 441. Blink and you'll miss the wooden fence that marks the subtle entrance to this forest ripe with lush foliage and surprising wildlife encounters.
Bolen Bluff is an approximately three mile long trail, but due to flooding from Hurricane Irma, the loop takes under an hour of casual walking to complete. A majority of the trail is covered by trees, so you can even enjoy the walk during the summer heat. The trail eventually opens up to a large basin lined by dead trees that scrape the vast prairie sky. You will eventually be stopped by the flooding within the basin, but make sure to squint into the distance–on the other side of the water, herds of wild bison can be spotted.
Wildlife is a selling point of Bolen Bluff, and it is famous for the families of wild horses that call Paynes Prairie their home. I have personally seen two large black stallions emerge from the growth and cross directly in front of my path. Seeing the horses is a rare encounter, and I've only experienced them once in the ten times I've strolled through Bolen Bluff. It's magical to have such a large and beautiful animal manifest out of the woods for a personal encounter. Even if you don't see the horses themselves, watch your step, as evidence of their existence is ample. Deer also roam the forest, and if you're lucky, you'll catch a glimpse of a baby fawn.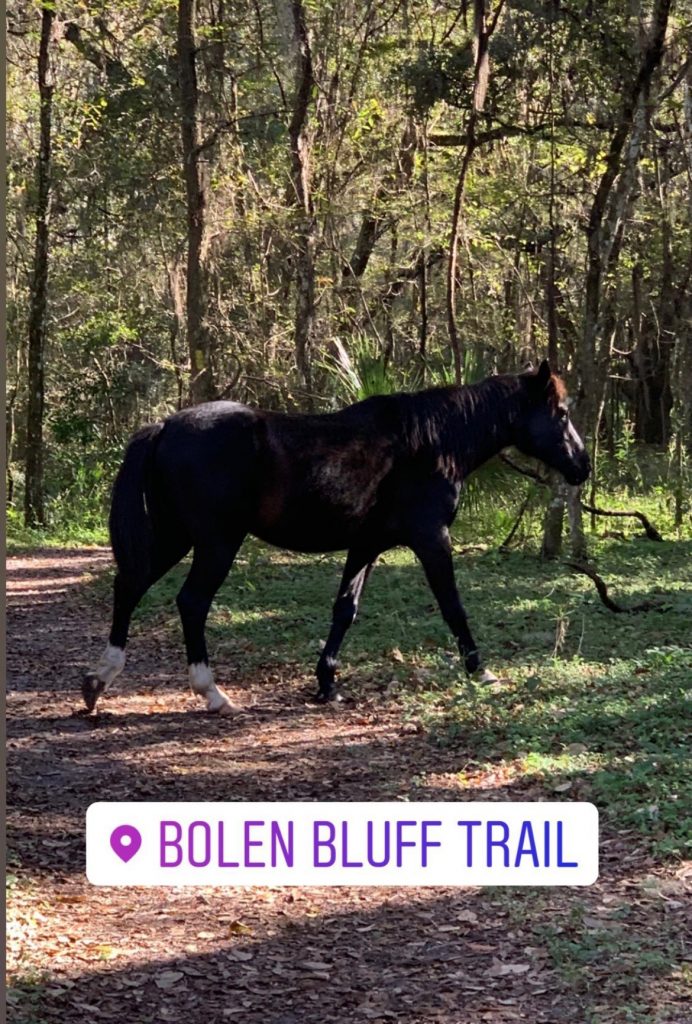 Bolen Bluff is an excellent and leisurely trail brimming with natural beauty. You can also explore additional off-road footpaths that lead into the prairie if you're feeling adventurous. Bug spray is a must if you want to fully enjoy your time on the trail.
Directions: From Interstate 75, take the Micanopy exit and drive east to US 441. Turn left and watch for the park entrance on your right within a mile. Pass that entrance and continue 3.4 miles north along US 441 to a trailhead parking lot on the right, just before the highway descends into the prairie.
Fee: $2 donation per vehicle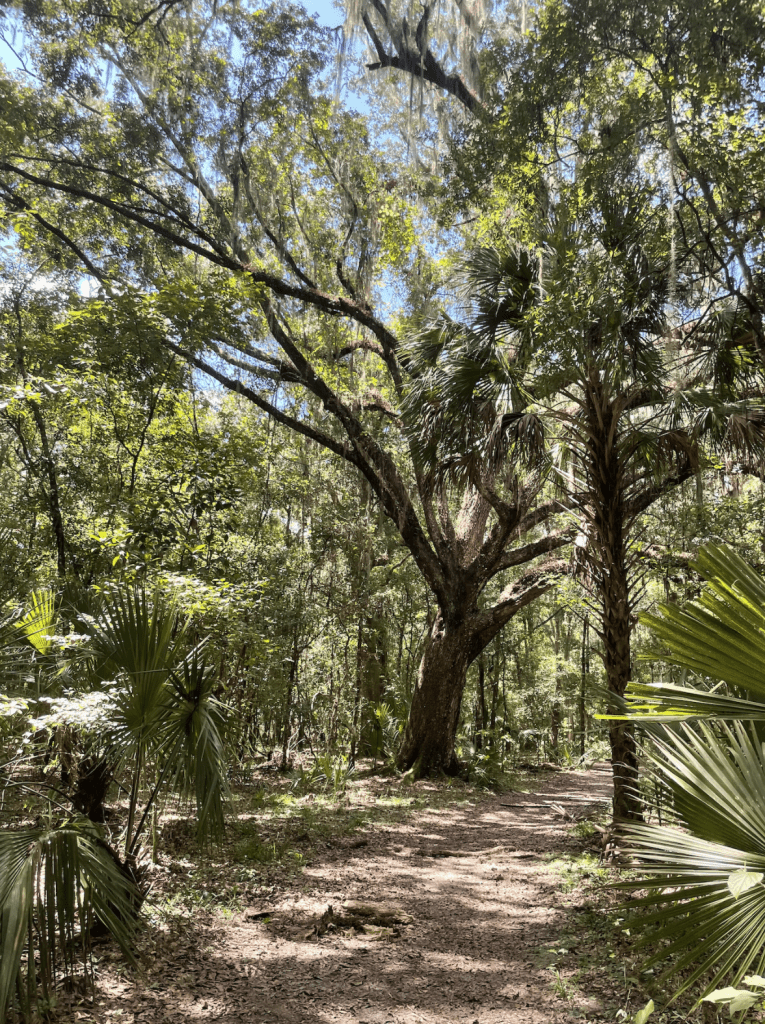 La Chua Trail: Dive Into Florida's Ecosystem
La Chua trail is one of the most popular trails in Gainesville, and for good reason–this one mile hike features pieces of Florida history, beautiful views, and enough alligators to feel like a deleted scene from "Jurassic Park."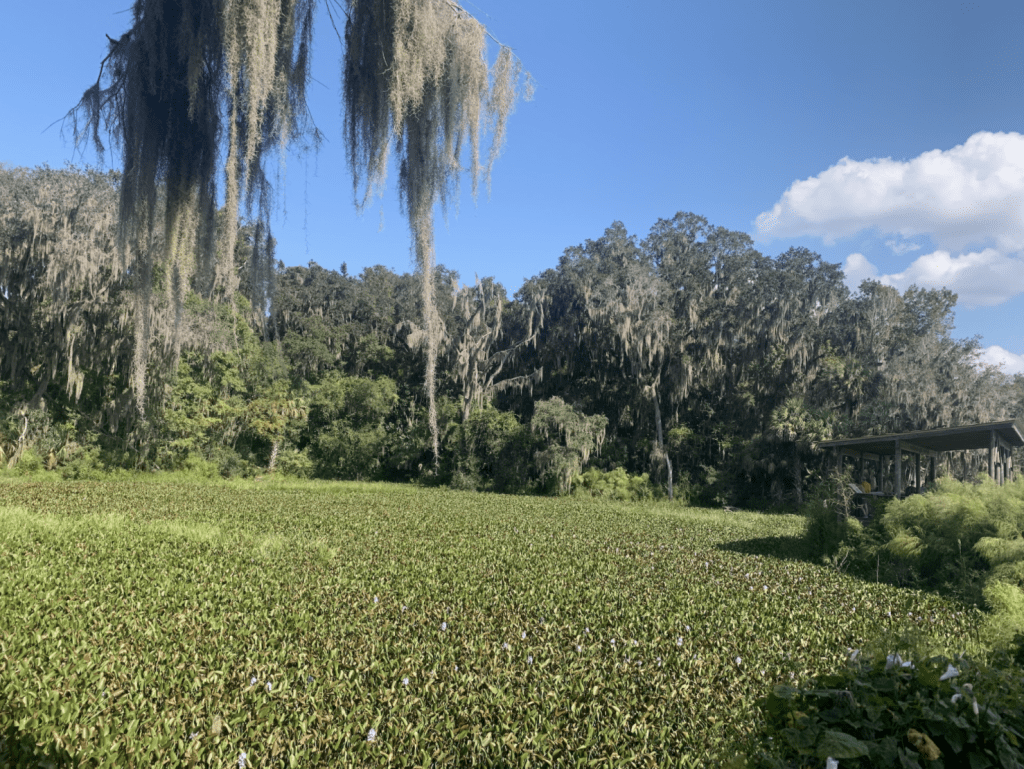 When you first visit La Chua trail, you'll pass under an old concrete railway truss as zebra butterflies dance around your head. There used to be a railway that ran through the prairie, but now, only this small reminder remains. You also get to walk through an abandoned horse stable from the 1940s. Interesting historical tidbits hanging on the wall give insight into life in Alachua County a century ago.
The most exciting part of the trail is when it morphs into a boardwalk hike over the Alachua Sink. In fact, the name La Chua comes from the Spanish article "La" mixed with the Timucuan word "Chua," which translates to "sinkhole." The sinkhole is observed by wildlife photographers, biologists, and college students looking for additions to their Instagram stories.
I was fortunate enough to hike behind a photographer with a passion for wildlife last October, and he took the time to teach me about the ecosystem of La Chua. Invasive apple snails thrive in the water, choking out native wildlife. Their cotton candy pink eggs can be seen underneath the equally invasive plants that grow over the entire sinkhole. In response to this population boom, snail kites patrol the sky and swoop down to feast on these delicacies. It's amazing to watch these aerial predators catch their prey with pinpoint accuracy. Other birds wade in the water and stab the snails with their beaks. Glance down and you'll be sure to spot graveyards of empty shells.
The boardwalk then leads into a grassy path surrounded by water. Majestic blue herons and egrets dive into the water to catch wriggling fish. It's important to be cautious, as sometimes an alligator will be sunbathing in the middle of the trail. Brave Floridians will simply scoot around these creatures and continue on their stroll. Be mindful when walking close to the edge of the water! I have seen up to fifty alligators sitting on the banks during the beginning of their mating season in April.
La Chua trail is my favorite hike in Gainesville, and it only takes about forty-five minutes roundtrip due to flooding cutting off the rest of the trail, which once led to an observation tower. Don't be discouraged by the brief length–La Chua Trail is a must-see for those interested in Florida's unique ecosystem!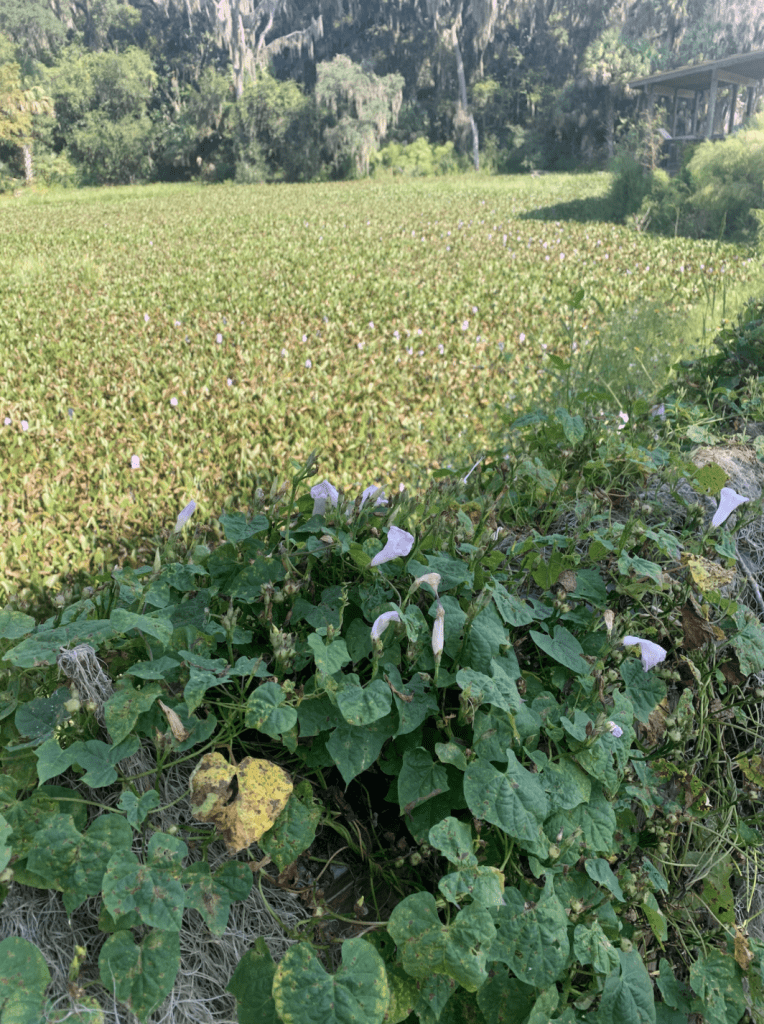 Directions: Drive east on University Ave past Downtown Gainesville and make a right on SR-20. Make an almost immediate right on 15th St and take the road until it ends. There will be a gate which leads to the trailhead and a sign indicating that you are at La Chua Trail.
Fee: $4 donation per vehicle
Sweetwater Wetlands Park: A Refreshing Stroll
Sweetwater Wetlands Park is a 125-acre nature preserve that features 3.5 miles of walking trails. Sweetwater is a unique trail because it's a large field with multiple gravel pathways, so you can choose the length of your hike or loop around all the trails for up to two hours.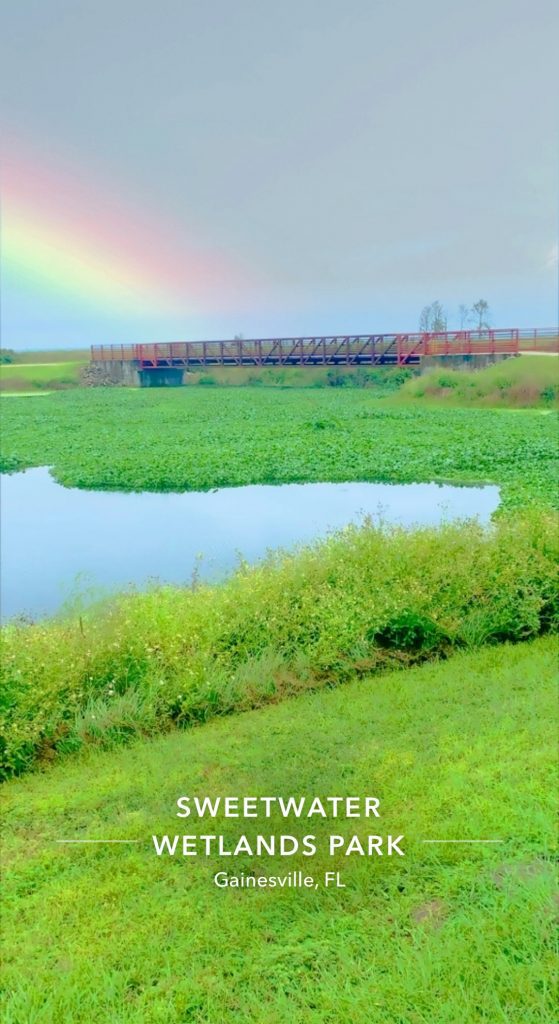 This park features an adorable bridge and several ponds lined with budding pink and purple flowers. A boardwalk path offers a serene walk over the water, and it's easy to spot turtles, ducks, herons, and cormorants. The wide variety of winged creatures makes it an excellent spot for birdwatching. Alligators are an extremely common sight as well.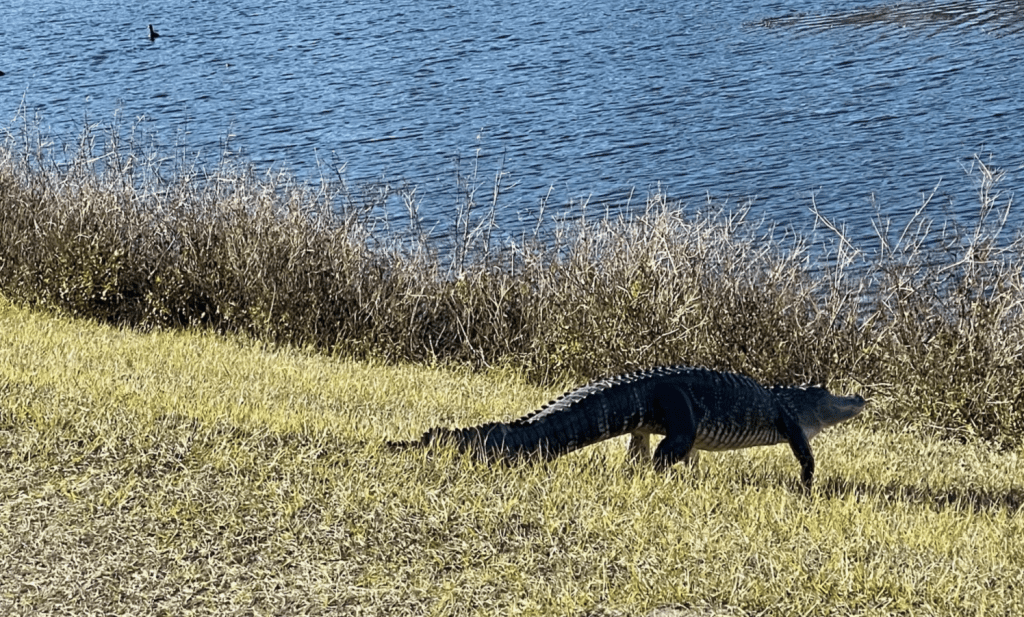 Due to the exploratory nature of the many pathways, Sweetwater feels like a unique experience every time. Sweetwater also benefits from having a real restroom located near the parking lot, unlike other trails where your options are either a rarely cleaned portable toilet or the nearest bush. Be sure to check the Sweetwater Wetlands Park Facebook page, as guided tours are offered multiple times a month.
Directions: 325 SW Williston Road Gainesville, FL 32608
Fee: $5 donation per vehicle
Next time you need an escape from reality, make sure to check out these local gems. It's amazing what a relaxing walk through nature can do for your mental and physical wellbeing. Bolen Bluff, La Chua, and Sweetwater are all waiting for you!