Create in Community:
host or participate in a
creative event.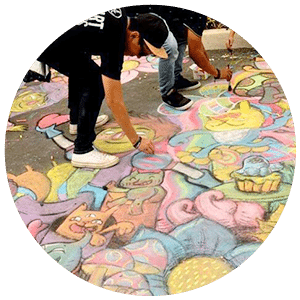 Gainesville: Join Active Streets + 352Creates Sunday, February 25th 11am-3pm in Depot Park and surrounding streets in Gainesville, Florida!
352Creates 'Create in Community' event will be in partnership with theActive Streets Alliance fifth annual event. 352Creates promotes the idea that creativity benefits us as individuals and as communities & Active Streets Alliance builds community around and in our streets by promoting healthy, active lifestyles.
Businesses, organizations and individuals are invited to lead free, creative participatory activities AND/OR any group activity that will engage attendees in a healthy, active lifestyle.
Everywhere in the 352 area code: Host your own event and we'll promote it on this website and social media
Active Streets + 352Creates 2018 Activity Leaders:
Alachua County Library District
Gainesville Circus Center
Alachua County Supervisor of Elections
Rawls Arts and Design
Searchlight yoga
Gainesville Area Rowing
Alachua County Victim Services and Rape Crisis Center
HeartSafe City
Gainesville Roller Rebels
Peaceful Paths Domestic Abuse Network
Alachua County Farm to School
Allied Capoeira League Gainesville
Master Builder Camp
Self Narrate
Student Planning Association
Gertner Grind
Chef Ami
Barre Forte – Gainesville
Gainesville Bike Polo
Flow Space
Hogan School of Irish Dance
Moring-San Martial Arts
Gainesville FL Moms Blog
Peak Strength and Fitness
Gainesville Improv Guild
UF Student Chapter of American Society for Microbiology
Third House Books & Coffee
Yoga Pod Gainesville
Dylan Klempner
UF Health Shands Arts in Medicine
Anupama Priyadarshini
Baila Caliente
DreamQuilt
City of Gainesville PRCA
Hip Moves
Arts for Health Florida
B3 Gym
AnARTists Community Group
Uhuru Solidarity Movement
Gainesville Dojo
Working Food
Ukulele Club of Gainesville
Dance352
UF HealthStreet
Students for New Urbanism
Public Health Student Association
weFooz Human Foosball
UF Art Education Dept.
Gainesville Cycling Club
Inspiration and Ideas:
A drum circle
A play reading
A sidewalk chalk art project
A food creation project
A dance lesson
A sing-a-long choir
A poetry slam
A haiku contest
A mural project
Community yoga classes
Crafting sessions